PocketTimer Pro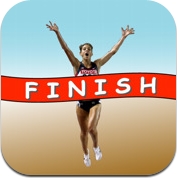 iPhone • iPad • iPod Touch
Software for Race Timing
PocketTimer Pro from Stevens Creek Software is a complete race timing software product, allowing you to time and score races of various types (running, cycling, sailing, rowing, etc.) and post results directly to the web. We also have PocketTimer XC which is a version of the software specially optimized to time high school and college cross-country races, with their special scoring requirements.
Here's a summary of its features:
Support for up to 100 categories (divisions, age groups, classes, etc.) of entrants
Time handicaps for each category (for races with wave starts by age group, for example)
Individual handicaps for each entrant (for time trials with separate starts for each racer, or races with an "early start" for some entrants)
Categories and racers can be entered on the iPhone, downloaded from a file on the Web or local computer (or a combination of both), transferred to the iPhone via Apple's iTunes File Sharing, or downloaded via Dropbox™
Check-in racers on race day directly on the unit if desired
Timing to 0.1 or 1.0 second resolution
Easy entry of bib#'s of finishers using large on screen buttons with audio feedback
Easy editing of entered times or bib#'s
Display of racer name as soon as bib# is entered, to allow announcing of approaching finisher
Multiple approching finishers can have their bib#s"pre-recorded" (for announcing purposes, or just preparation for a tight finish) and then their time recorded as they cross the finish
Duplicate recording of the same bib# can be precluded, warned (with a buzzer), and/or highlighted on the timing screen
Time can be offset so software can be started at a time different than actual race start, and then adjusted to match
Results automatically calculated by overall placing, placing by sex, and placing by categories (divisions, age groups, classes, etc.)
Ability to exclude top finishers from division placings
Optional scoring of masters division, with optional exclusion of those top finishers from further division placings
Results can be scored with or without handicaps
Duplicate recordings of the same bib# can be scored using either the shortest recorded time, the longest, all recorded times, or the Nth time
Multilap races can have results calculated for each lap
Multiple races can be timed simultaneously
Results can be uploaded to the web while the race is in progress - all uploads done in background so that you can immediately return to timing the race while the upload proceeds
Uploaded results include complete (overall, sex, division) results
Uploaded results include pace calculated from distance (enterable in miles or kilometers) and pace (enterable in minutes per mile or per kilometer)
Upload can also include a separate file of finishing times and bib#'s (for importing into other desktop software) and/or racer information (so that any race day entrants added directly on the device will be uploaded back to the desktop)
Uploads can be done by ftp directly to a website, via email as attached file(s), via Apple's iTunes File Sharing, or using Dropbox™
Want to learn more?

About Stevens Creek Software:
Stevens Creek Software has been developing software for Windows, Macintosh, Palm, and iPhone since 1988. We have been a leading developer of software for the Palm platform, and are now one of the leading developers of software for iPhone, with eight different titles on the market.
Stevens Creek Software
P.O. Box 2126
Cupertino, CA 95015
Click "Recommend" to let your Facebook friends know about PocketTimer Pro: